ב"ה
Friendship Circle Hebrew School's innovative and developmentally appropriate program is dedicated to providing opportunities for children who have special needs to develop their spiritual growth through experiencing religious practices. We focus on "functional Jewish Education" - education aimed to promote an active Jewish life by teaching daily Jewish life skills, knowledge and concepts. As a result, students acquire a sense of identity and inclusion as members of the Jewish community,  Teen volunteers develop meanginful relationships with our students as they learn together through music, movement, art, stories, interactive learning groups, and role play. 


The Friendship Circle Hebrew School addresses a vital need for Jewish Special Education in the Los Angeles Jewish community.
For more information or to enroll your child, email [email protected] or call 310-280-0955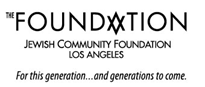 Funded in part by the Doris Factor Endowment Fund of the Jewish Community Foundation of Los Angeles & the Jewish Federation or Los Angeles.
Friendship Circle Los Angeles
1952 S Robertson Blvd, Los Angeles, CA 90034. Ph: 310.280.0955 Fax: 310.280.0974